Boardroom and Conference room
At SSIPL, we specialize in creating exceptional boardroom and conference room environments that inspire productivity, collaboration, and success. With our expertise in audiovisual technology and ergonomic design, we are committed to providing you with innovative solutions that elevate your meeting experiences.
Tailored Solutions for Your Unique Needs
We understand that every organization has its unique requirements when it comes to boardrooms and conference rooms. That's why we offer tailored solutions that cater to your specific needs. Whether you're setting up a boardroom for executive meetings or a large conference facility for presentations and events, our team of experts will work closely with you to understand your objectives and deliver a customized solution that exceeds your expectations.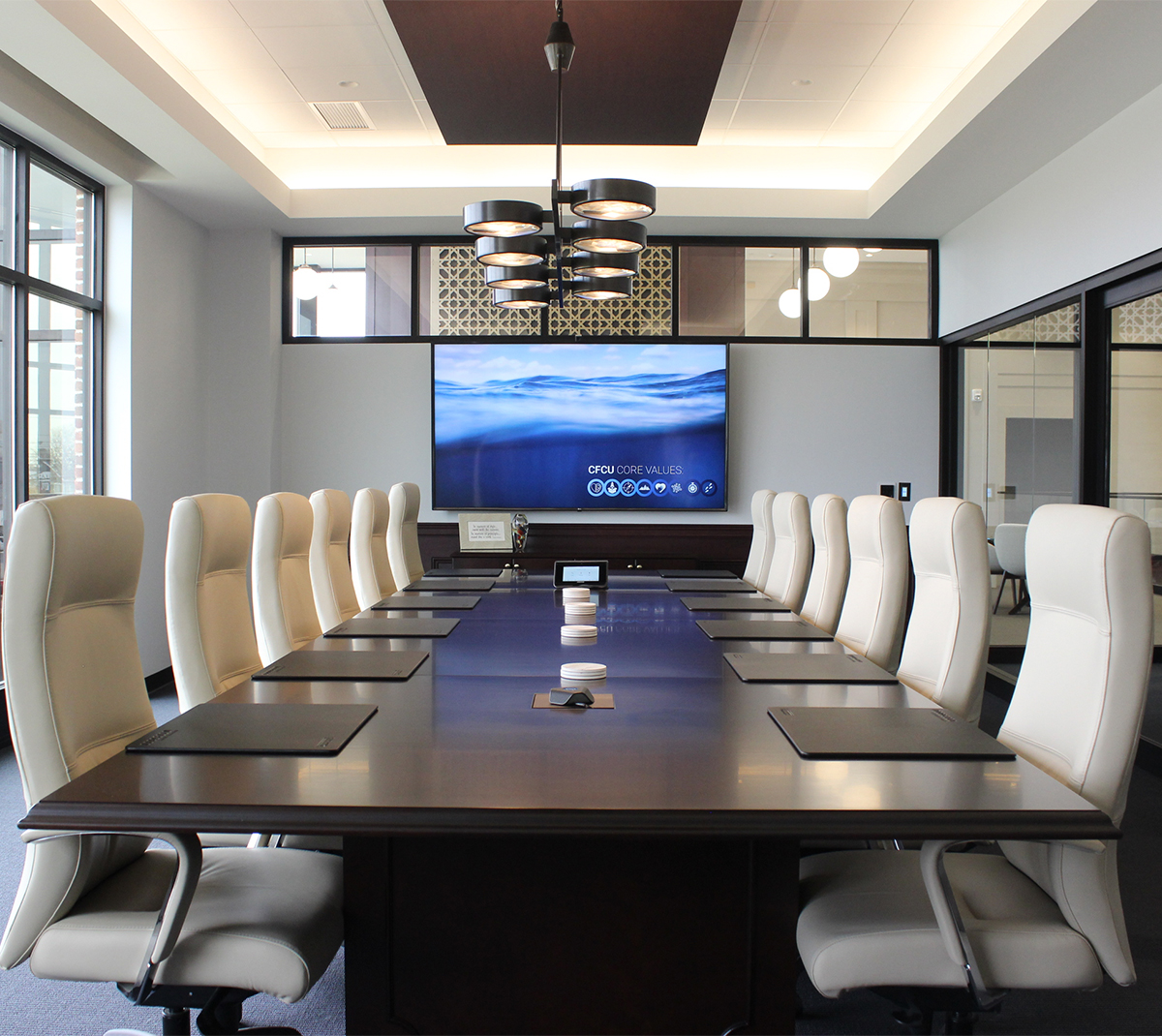 Cutting-Edge Audiovisual Technology
We believe that a well-equipped boardroom or conference room is the foundation for effective communication. That's why we integrate cutting-edge audiovisual technology into our solutions. From high-resolution displays and video walls to advanced audio systems and video conferencing capabilities, we ensure that your presentations, video conferences, and multimedia content are delivered with utmost clarity and impact.
Seamless Collaboration and Connectivity
Collaboration is key to productive meetings. Our solutions are designed to enhance collaboration and connectivity, allowing participants to share ideas, exchange information, and work together seamlessly. With intuitive control systems, wireless presentation capabilities, and interactive whiteboards, we empower your team to collaborate effectively, whether they are in the room or joining remotely.
Comfortable and Functional Design
We understand that a well-designed environment enhances engagement and focus during meetings. Our solutions not only prioritize functionality but also offer a balance of elegance and comfort. We consider factors such as room layout, acoustics, lighting, and furniture to create a space that promotes a positive atmosphere and supports productive discussions.
Reliability and Support
We know that your meetings need to run smoothly without any technical hiccups. That's why we source high-quality products from trusted brands and employ rigorous installation practices to ensure reliability and performance. Additionally, our dedicated support team is always available to address any issues promptly and provide ongoing maintenance, ensuring that your boardroom or conference room operates seamlessly.
Experience the Next Generation of Meetings
At SSIPL, we are passionate about transforming boardrooms and conference rooms into dynamic spaces that foster collaboration, innovation, and success. With our expertise and commitment to excellence, we aim to revolutionize the way you conduct meetings and presentations.
Contact us today to discuss your boardroom and conference room needs and embark on a journey towards exceptional meeting experiences. Together, let's create a space that drives productivity and inspires greatness.